Extending Outlook with add-ins is a great way to maximize your productivity, as long as you choose wisely. In the list below, we include a bunch of handy features with an added benefit - all these add-ins are free.
Sender's Time Zone Ever wondered if placing a call to your supplier in China would result in leaving a voice mail or getting a live person on the line? Want to call a friend vacationing in Europe? Can't remember if the office in New York is still open? Sender's Time Zone helps you solve that problem by giving you the current time in the sender's location right above the message From line. The only downside to this Outlook Add-in is not available from the Preview Pane, so you must open the message to see it, but this still beats trying to do the timezone math in your head. Download Sender's Time Zone for Outlook. [Outlook 2000/XP/2003/2007 Compatible]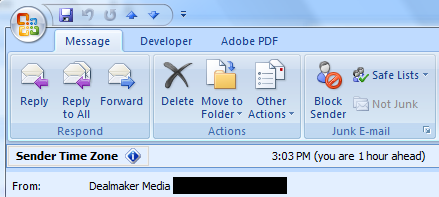 Easy Combine Mail If you join a message thread late, or simply need to get a report on all the details of a conversation, it can be painful to follow an entire email thread by wading through repeated text that gets quoted several times. Easy Combine Mail solves this problem by combining a group of related messages, removing duplicate information and chronologically showing you the text of the message. You'll cut hours from your message reading simply by letting Easy Combine Mail sift through your email first. Download Easy Combine Mail for Outlook. [Outlook 2003/2007 Compatible]
Advanced Security for Outlook Outlook has a bad habit of warning you not to do things you know are perfectly save. The error message don't always provide useful information and it can be down right annoying. Advanced Security for Outlook provides a greater level of control over what Outlook will or won't warn you about. Download Advanced Security for Outlook.
Missing Attachment PowerToy We've all done it at least once. You compose a message, tell people about the important details inside the attachment, and then forget to include the attachment. The Missing Attachment PowerToy is designed to help prevent this kind of oversight. By defining some common text to look for in messages frequently containing attachments, the PowerToy is like a friendly reminder to attach your file before hitting send. Download Missing Attachment PowerToy for Outlook. [Outlook 2007 Compatible]
TwInbox Can't live without being in your Outlook client? Can't live without Twitter? Marry these two overwhelming sources of inbound information with TwInbox. Now you can update your status from inside Outlook. Keep track of tweets from friends, and let all that data build up inside your PST, fully searchable to reference later. If you weren't already overloaded with information, this might be the right step to take to make it happen. Probably the best reason to use this Outlook Add-in is to track Twitter Search queries in something that archives to your computer. Download TwInbox for Outlook.
AutoPrint McGrath Technology makes several free Outlook Add-ins. The one that jumped out at me as being most useful was the AutoPrint add-in. If you run an online business where you regularly receive sales notifications via email, this is a handy way to get those sales printed and ready to move down the line for fulfillment. I've also worked with people who prefer to print anything they need to read, which might be another handy feature for this add-in. McGrath also makes a handy auto BCC solution so you never forget to include the boss in important conversations. Download AutoPrint for Outlook. [Outlook XP/2003/2007 Compatible]